This weekend we started a new annual tradition of the Sunrise Party. Starting at midnight on Friday we put out a buffet of fruits, nuts and vegetables and wine, vodka, rum, and... well way too much of everything.
Needless to say if there are any local folk who want some bananas, kiwis, strawberries or mangoes before they go bad, contact me immediately!
In other news we have had an influx of new items to play with and I thought we'd take a few minutes to appreciate some of these delicacies from our friends.
New Friends
First, joining Harvey the Roomba (made a cameo in our Christmas special last year) is our amigarumi pal Melissa dropped off the other day, his name is Mochi. This photo depicts him still hiding in Melissa's cupboard.
We also had a surprise move-in that my guy brought home to help us with office work. He was a bit pale in the beginning and not very friendly either, but after a brief makeover (Stage 1) by multimedia collage artist Priscilla Ramos he has made a complete turn around.
If you have not heard of Pedro Almodovar then your are missing out on a staple of Spanish cinema. Having seen
All About My Mother
a couple of years ago it was not difficult to except the recommendation for
Women on the Verge of a Nervous Breakdown
. The film alone could not be found on my Blockbuster mail order and the only one available online was $5 cheaper then the entire collection.
More on that after screening.
'Marklund Home' Shopping Spree


The perfect costume, glam tech, cabaret, Halloween, etc. attire.
including:
1 lavender & pink ruffled tuxedo button down
1 plaid lime green jacket
1 blue sequins cumberbun
1 faux spotted Cruella DeVille-style rabbit fur coat
1 bowling hat
1 ladies throw coat w/ dangling sparkled gems
1 beaded necklace & 2 cute scarves (not pictured) as gifts to friends for make-up work before parties
Ali Spagnola
Ali Spagnola
, a future guest on the show, is running a
Free Paintings Campaign
on her website. You can request anything you like and she will paint it, package it, and send it all free of charge. A couple of weeks ago this great guy arrived featuring a cartoony Brian & I.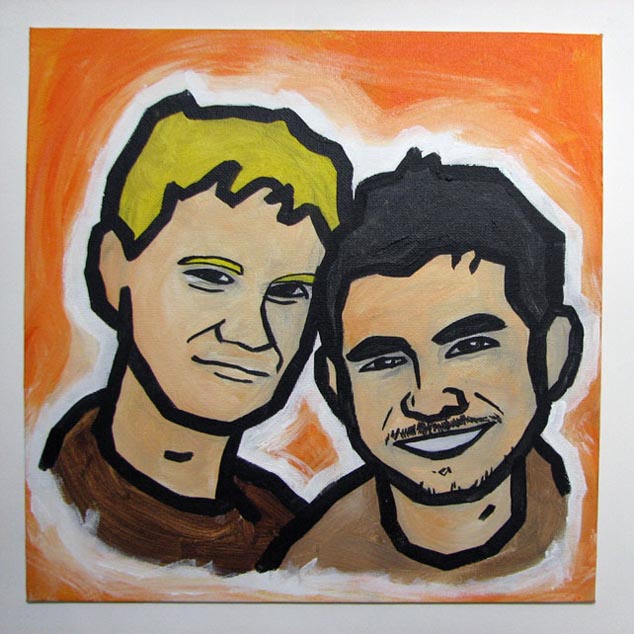 Ian Ophelan
Ian does all kinds of great illustrations and if you send him a photo he may very well do one of you. Check out his
site
to see more work and send in a picture.
That is all for this installment. Plenty more on its way.